Willkommen in der Skischule Zell am See
The "TEENSonSKI" course for teenagers aged 12 to 15 is perfect for beginners, slightly advanced and experienced skiers.
Cool descents, varied training programmes and lots of FUN & ACTION await you!
This makes skiing in a group fun!
Groups are divided up on the first day of the course according to the ability and age of the children.
The group has lots of fun with their peers and the ski instructor on the slopes and in the ski area.
The supervised lunch break also allows parents to enjoy a carefree day on the slopes.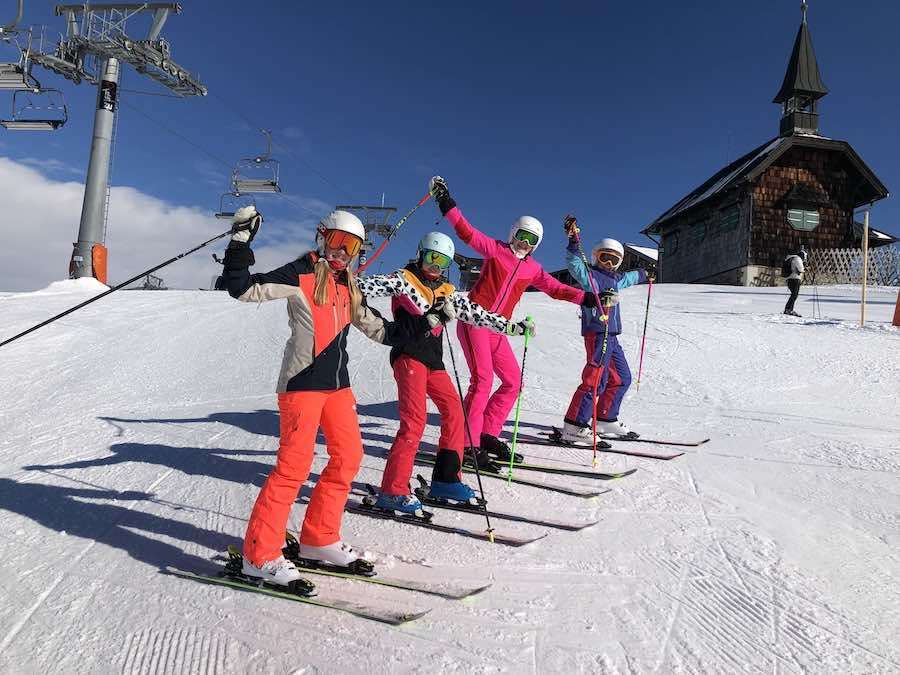 IMPORTANT COURSE INFORMATION
* From 24.12.2023 – 03.01.2024 (Christmas / New Year) there is continuous course operation.
Courses can start almost every day!
We recommend booking the course online (especially during holiday periods)!
Course times: 10-12 am & 1-3pm
* No discount in the high season!
The offices of the Zell am See Ski & Snowboard School are located directly at the valley stations of the cable cars AreitXpress, CityXpress and TrassXpress. The offices are open daily from 8:30am – 5pm!
A – AreitXpress,
B – CityXpress,
C – Schmittenhöhe
ALL in ONE PACKAGE - save up to 20%
You need a Ski or Snowboard  course and the complete equipment (skis /board, boots, poles, helmet)?
Book our All in One Package and enjoy many advantages of the Ski & Snowboard School Zell am See and the
Sport Bründl Network.
This offer is only available ONLINE. Book at least 3 days before the course starts!
Do you have any questions or requests?
You can find lots of information about our range of courses in our FAQs
For further questions or requests please send us an email or give us a call!
Ski passes and equipment are not included in the ski course price. If a group is reduced to 3 participants, the ski school reserves the right to merge groups or shorten the course time. The ski school accepts no liability for accidents that occur during or before the ski lessons. A refund of the course costs will only be made in the event of injury or illness – with a doctor's certificate – as the difference.
Course cancellations due to bad weather, lift failure (force majeure) will not be reimbursed.